Jaco Region Landscape Scenes and Plants
20-21 December 2005
This page last updated 12 January 2006

The town of Jaco is a very popular beach resort town for Costa Ricans, located on the Pacific Coast within a couple hour's drive from San Jose. Look at the third map on my "Costa Rica Home" page to see just where Jaco is. Basic information about Jaco and the area can be found at this website. Apparantly, Jaco is well-known for its brothels, with young women imported for the trade from countries like Columbia, or at least as I read on won private website by an American cop from Texas, who claims that prostitution is legal in Costa Rica. According to this cop, the Mexican restaraunt in Jaco, Pancho Villa's, has a brothel upstairs. We did see some young ladies dressed for the part, attended by their pimps, while walking through the town one evening. This town certainly wasn't the cleanest or best-kept Costa Rican town we visited.

Our Caravan tour took us to the Amapola Resort Hotel in Jaco, which had a security guard to keep the rifraf out. We used Jaco as our "basecamp" for an excursion to Manuel Antonio National Park and a few of us went on a forest canopy tour a few kilometers south of Jaco. This webpage includes one short video clips of our trip to Manuel Antonio, crossing bridges that offered "E Ticket" rides on our bus, but go the the Manuel Antonio webpage for a ride across a couple of them.

CounterData.com



finance advice Counter
All photos copyrighted by David L. Magney 2005, unless otherwise indicated.

Links to other Costa Rica photo pages
San Jose Area Photos
Poas Volcano National Park Area Photos
Braulio Carrillo National Park Area Photos
Tortuguero National Park Area Photos
Tortuguero National Park Area Photos 2
Grecia Metal Church and Sarchi Photos
Arenal Volcano Area Photos
Cloud Forest Photos
Manuel Antonio National Park Photos
Rio Frio-Los Chiles Area Photos
Costa Rican Bird Photos
Costa Rican Butterfly Photos
Banana Plantation Photos
Costa Rica Home
Photos of Scenes of the Jaco Area
Jaco Beach at sunset, a popular surfing beach.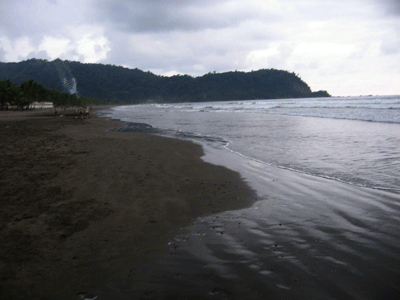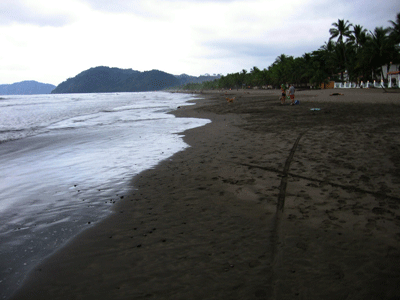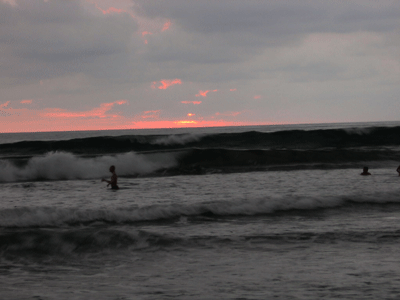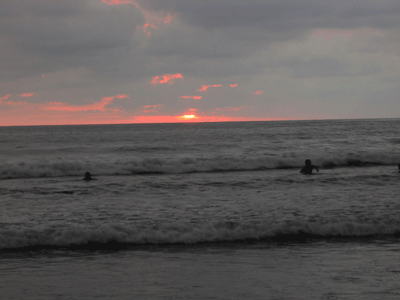 The view from top of the tree canopy, a few kilometers south of Jaco, is excellent, with the town of Hermosa visible.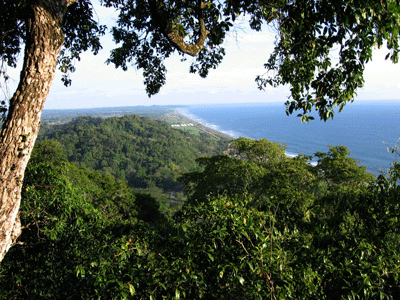 Care must be taken when shopping at some gift shops in Costa Rica as tourists have been known to become violent over competition for Costa Rican curios. Four out of five clinical studies of such bad behavior have shown that such behavior is more likely if the shoppers did not have a premium cup of coffee from the Britt coffee plantation before shopping. Furthermore, our tour director told us stories of angry male Nicaraguan immigrants that preferred the use of such metal instruments to settle disputes over more peaceful dispute resolution techniques, putting lots of fear into the minds of the Costa Rican people. Nancy had hired a "Mexican" day-laborer once who insisted on pruning all the trees and bushes with his large machetee. We wonder now if he was not from Nicaragua!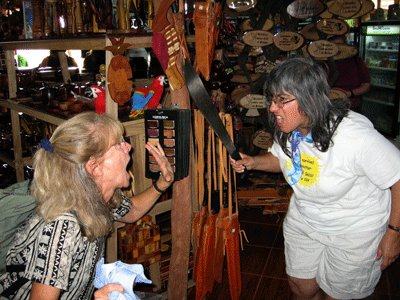 Part of a Chiclets Tree Canopy Tour brochure. Chiclets provided a really fun "tour" through the forest canopy. We "toured" through the canopy on cables strung between platforms constructed near the tree tops, strapped to pulleys attached to harnesses around our waists. Lots of fun.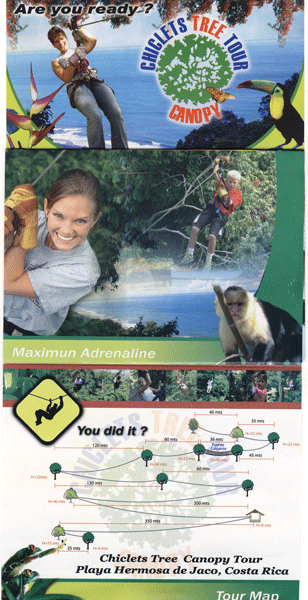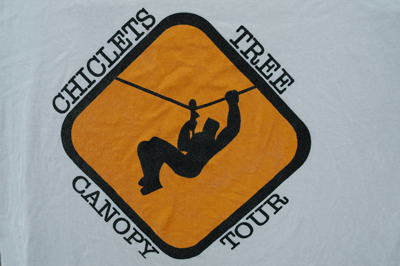 Chiclets Tree Canopy Tour office (photo by Andres Quiros), and canopy cable between two canopy platforms.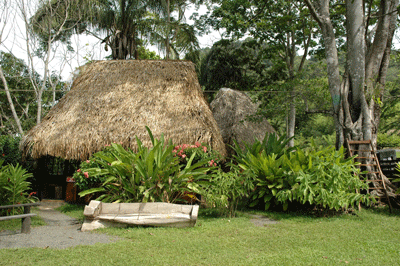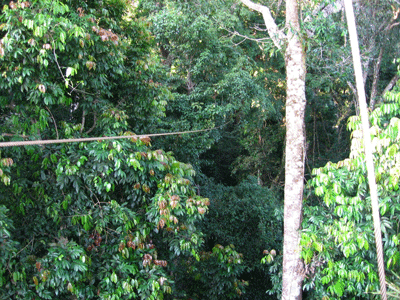 Tree canopy platform from which we swing through the trees to and from.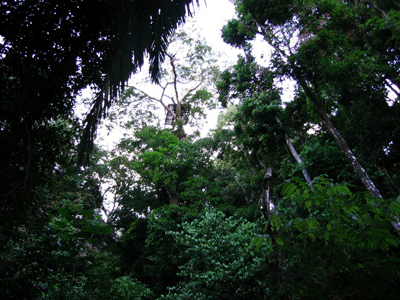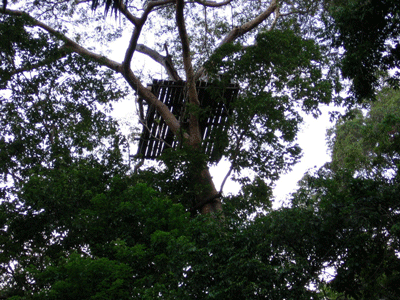 Tarzans and Janes (Tom and David, and Caren, Trish, Nancy, and Heidy), trained to swing through the trees.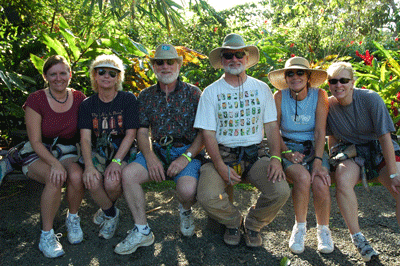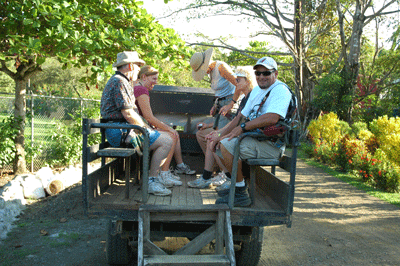 A Tarzan (David) and a Jane (Nancy), ready to start swinging. Some American guy came up to me and asked if this Tee-shirt showed the Iraqi leader card deck. He was a bit taken back when I told him that they are U.S. postages stamps of each of the 50 state wildflowers issued in the late 1980s. If I even owned such as shirt, do you think I would be wearing it in a foreign country?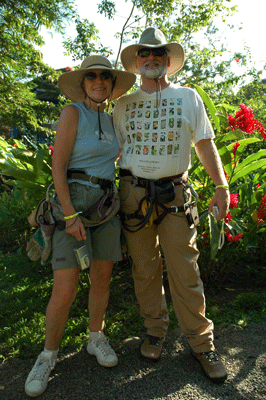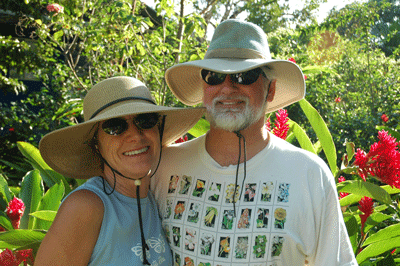 Hooked in and he's off through the trees.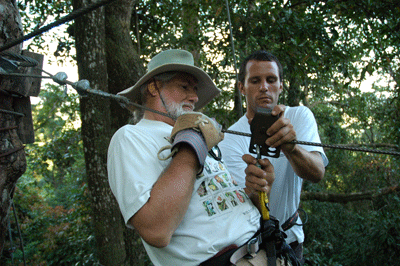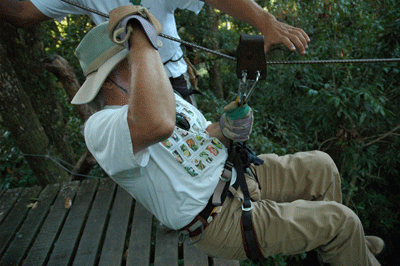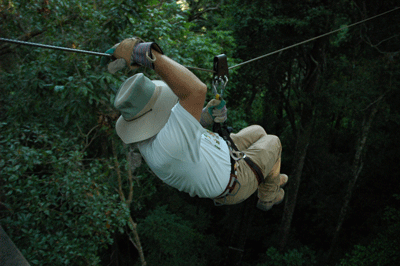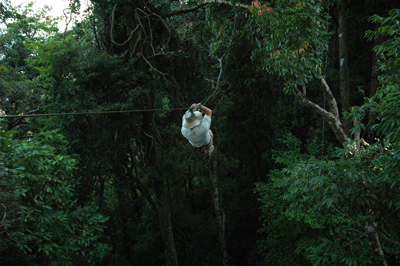 Hooked in and she's off through the trees.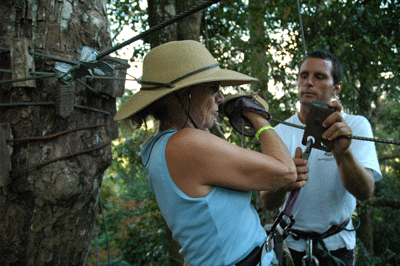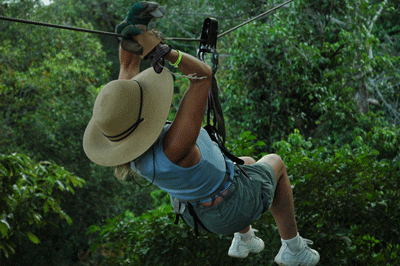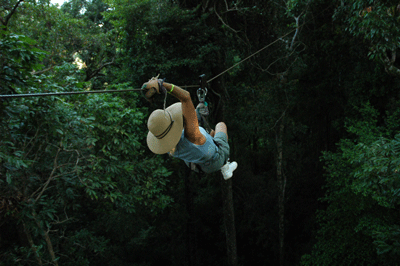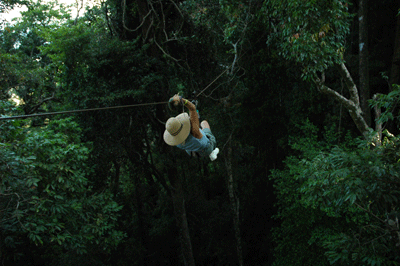 And he comes in from another tree and makes a perfect landing.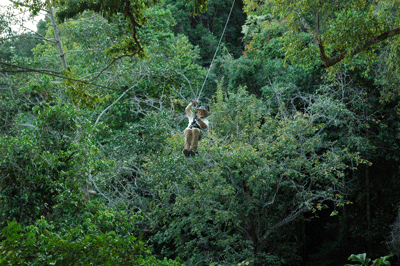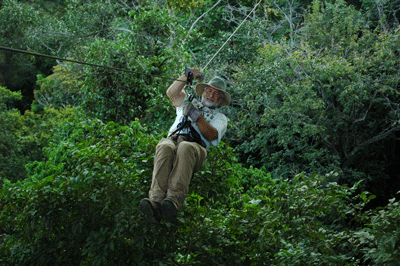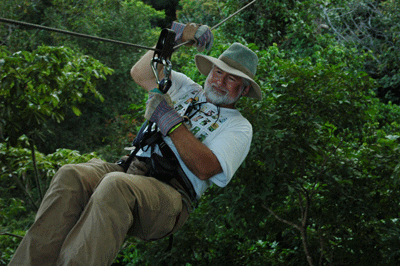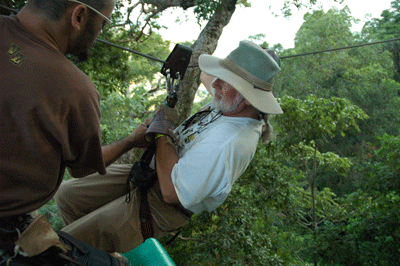 And they come in from another tree and make a perfect landings.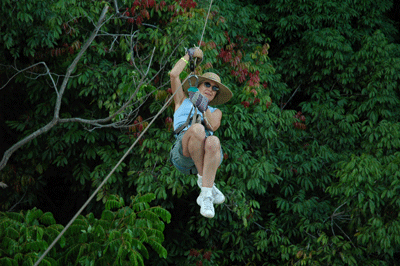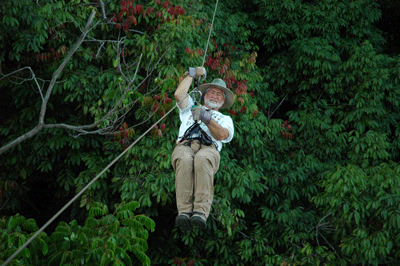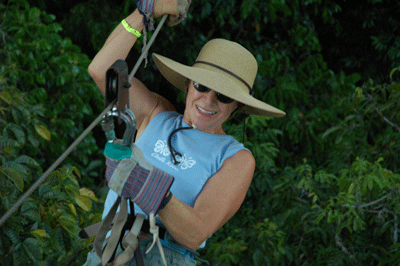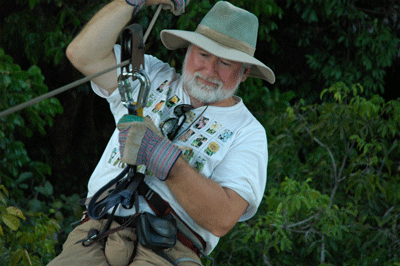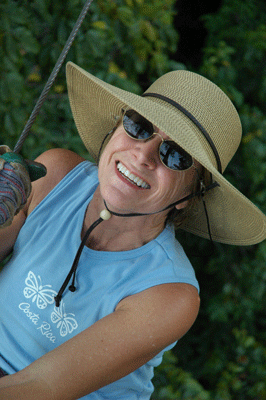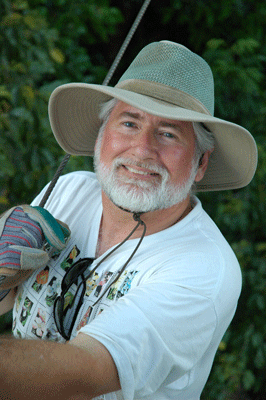 But when you don't put on the brakes, to protect the tree, the folks at Chicklets have protected the tree trunks with thick pads, as seen here on the 12th platform.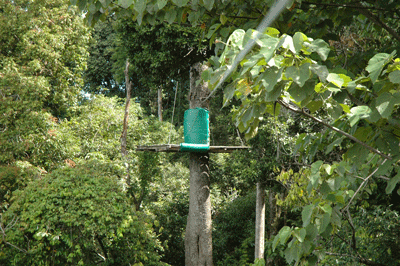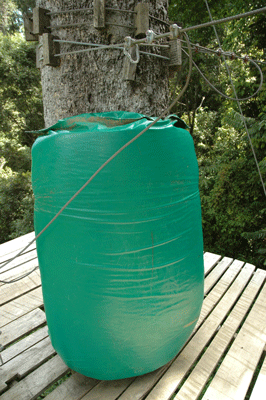 A beautiful bush in the Four O'Clock family (Nyctaginaceae). The colorful parts of the flowers are actually bracts (modified leaves).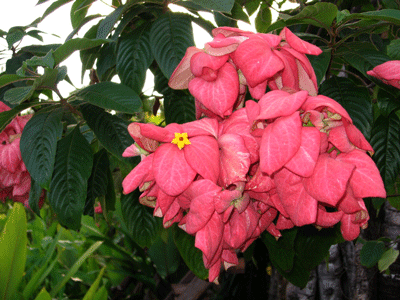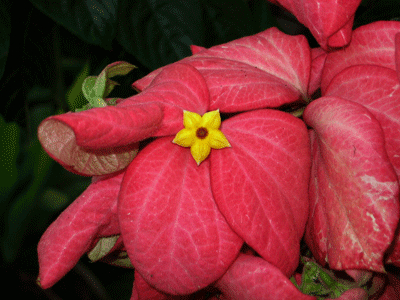 Leafcutter Ants hauling bits of yellow flowers to their nest. They don't harvest just leaves, but flowers too.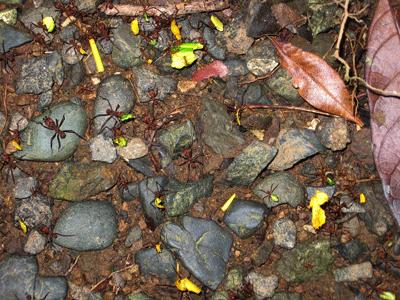 The Tarcoles River is a major river south of Jaco that is swarming with American Crocodiles. Here are two views of the river looking upstream from the highway bridge.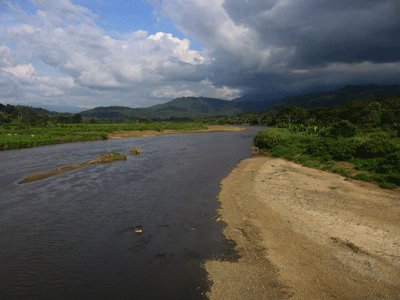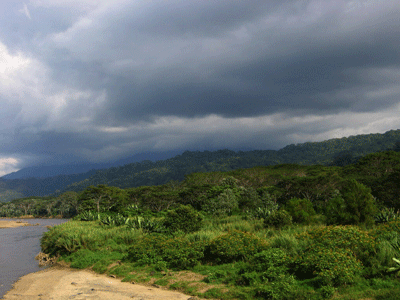 American Crocodile (Crocodylus acutus)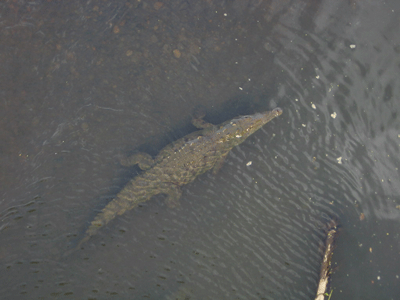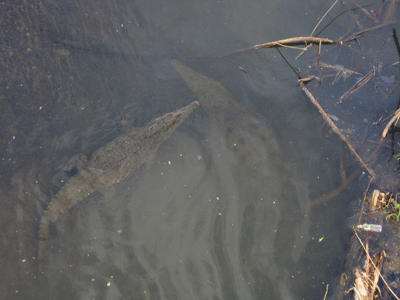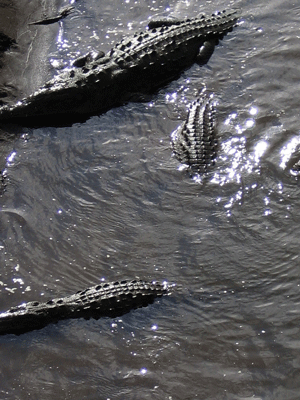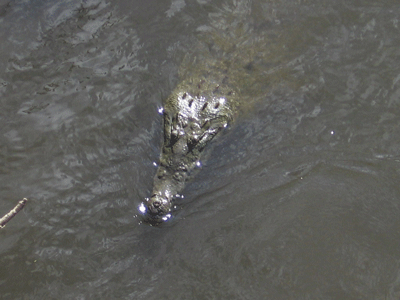 Video clips of crocodiles in a river south of Jaco. It will play as soon as it is loaded. Right click to access "Play" to run the video again. Apparantly, the natives feed these guys live chickens out of their mouths to entertain the tourists.




A Coati (Nasua narica) and a female Canopy Anole lizard (Norops sp.), photos by Adres Quiros.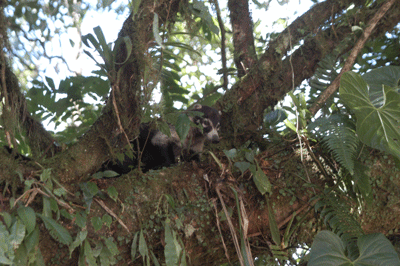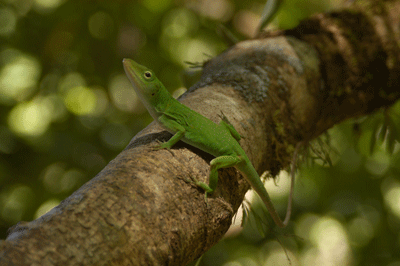 A Poison-Arrow Frog and a White-faced Monkey, photos by Adres Quiros.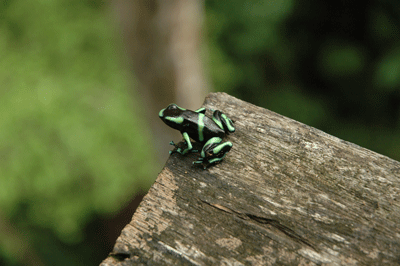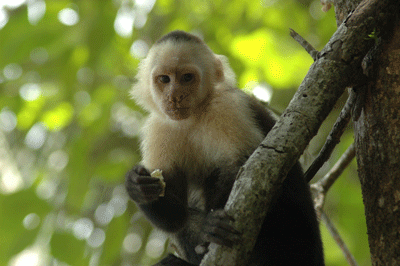 A Pacific Ocean sunset from a beach south of Jaco near the Chicklets Tree Canopy Tour office.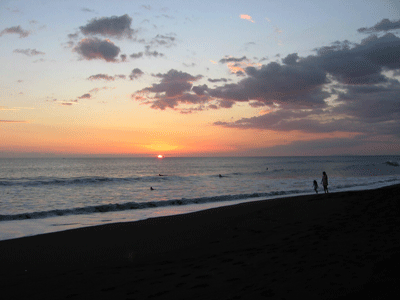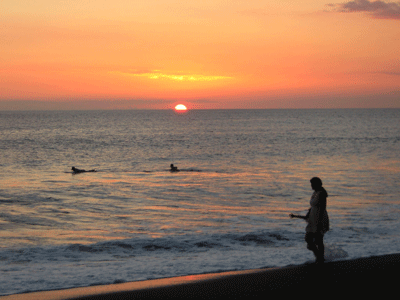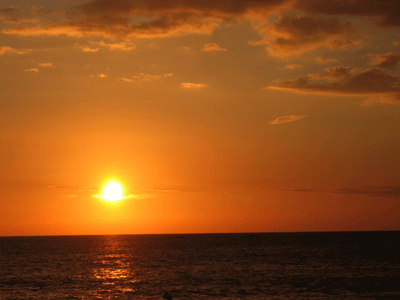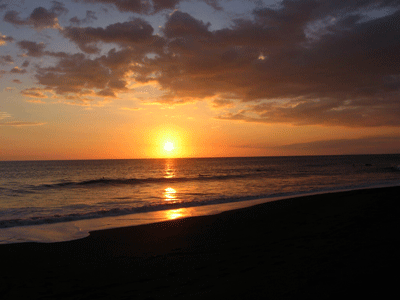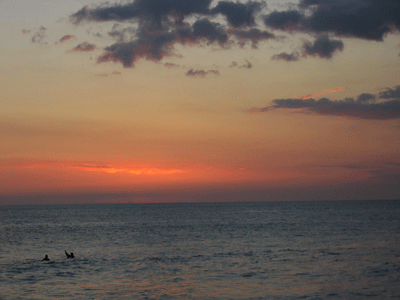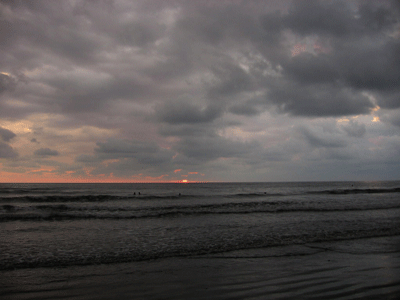 Costa Rica Home
Photography Home Page
Photography Site Map
DMEC Home