Costa Rican Bananas
16 December 2005
This page last updated 9 July 2007

Bananas are one of Costa Rica's major export crop along with coffee, and the backbone of Costa Rica's economy. &nbsp The importance of bananas as a crop in Costa Rica has declined since the 1980s to about 23% of Costa Rica's export economy in 2000, even though the total number of banana trees has increased. &nbsp As of 1992, banana plantations covered 32,000 hectares, up 30% from 1985, so clearly demand for this fruit is increasing. &nbsp In 1993, banana exports were worth $531,000,000. &nbsp A disease, Panama Disease (a root fungus), seriously damaged much of Costa Rica's banana crop in the 1930s, which at that time was mostly on the Caribbean side of the country and controlled by one American company. &nbsp It was, and is, the American transnational companies that set up the plantations, which required extensive clearing of the native rainforests. &nbsp However, tourism now brings in more money than bananas. &nbsp But even tourism may now have been eclipsed by high tech industry, as claimed by our Caravan tour director.

While on our way to Tortuguero on the Caribbean coast, we passed two large banana plantations, one owned and operated by Chiquita and the other by Del Monte. &nbsp The road to these plantations was a rough dirt/gravel road with lots of potholes and ruts. &nbsp Our tour director warned us that we had a long, slow, "massaging" ride to our destination because of the poor condition of the road. &nbsp The plantations were fairly clean looking monocultures, with cinder-block, tin-roofed housing for the workers. &nbsp Both plantations had their own packing houses and well-kept airfields, complete with crop-duster planes and hangers. &nbsp They also provide schools and medical aid to their workers.

It was only 20 years ago that the American companies routinely used these crop dusters to apply pesticides such as DDT on the bananas and other crops, even after DDT was entirely banned in the United States. &nbsp Use of DDT for agriculture was not banned in Costa Rica until 1988, in part because farm workers exposed to DDT became sterile or had other medical problems. &nbsp Lawsuit settlements for the workers adversely affected by such pesticides have curtailed DDT use on crops (which influenced the government to finally take action and implement the ban), but payments to the workers so far has been a pittance, less than $1,500 per person after attorney fees, which obviously is no where near fair to compensate someone sickened by DDT poisoning, including sterility. Pesticide News is a website that discusses banned pesticides such as DDT. &nbsp The Lindane Education and Network website provides additional information about DDT use in Costa Rica, as well as the NRDC website on breastmilk of Costa Rican women. &nbsp Each of these three websites provides interesting information about the problems associated with past use of DDT in Costa Rica, and currently used pesticides. &nbsp However, even though DDT was banned in 1988 in Costa Rica, this toxic pesticide persists in the environment for decades (Soil tests I commissioned in Oxnard, California as part of a wetland habitat restoration plan, funded by the California Coastal Conservancy, found very high, toxic, levels of DDE, a derivitive of DDT, in agricultural fields and in associated drainages). &nbsp With DDT having been banned in California back in the early 70s, companies like DOW and Shell claimed that the DDT would break down and no longer be a problem. &nbsp My tests show otherwise.)

Pesticide contamination and the effects of banana plantations has reduced Costa Rica's coastal ecosystem species diversity and richness by 90 percent. &nbsp That means that only 10 percent of the species that occurred in this part of Costa Rica remains. &nbsp This whole issues is detailed at the Trade & Environment Database website, with case studies detailing this whole issue, focusing on DDT and its impact on Costa Rican farm workers. &nbsp Currently, between 250-300 cases of pesticide poisoning are reported each year in Costa Rica, with most of those cases associated with the banana plantations. &nbsp This is largely because the plantation owners reformulate the pesticides they use on the bananas, using 7 times more than the rest of the world's per capita average, and obviously do not take enough care to prevent accidents. &nbsp A recent Los Angeles Times article (pre-2006) and the source, Environmental Health Perspectives article about the affects of pesticides on amphibians provides a good explanation why individual pecticide affects understate real world impacts on this groups of animals. &nbsp The banana growers (primarily Del Monte, Chiquita, and Dole) import 25-30% of all the pesticides used in Costa Rica. &nbsp The very heavy reliance on pesticides by the likes of these companies is driven by their increasing need to improve production efficienies. &nbsp This heavy reliance on pesticides clearly has consequences on the health of our environment. &nbsp So, why rely so heavily on harmful pesticides? &nbsp I have one word for it: GREED! &nbsp Plantation workers n Nicaragua have changed tactics and have filed lawsuits in the United States after a recent court decision. &nbsp View the Los Angeles Times article here, dated 27 May 2007, to see the latest news on this topic.

We think of Costa Rica as being one of the more advanced Latin American countries, but clearly they have a long way to go to take better care of their citizens and workers, and the environment. &nbsp More surprizingly, the World Health Organization, even while recogonizing how bad DDT is for the environment and people accidentally exposed to it, still supports its use to kill mosquitos to control malaria. &nbsp When will we ever learn?

We stopped and watched the operations at the Del Monte packing house. &nbsp Below are some still photos and video clips of the workers at work. &nbsp These packing houses are only open just before a cargo ship is scheduled to dock at Limon several kilometers to the southeast, since the time it takes for the harvested bananas to ripen is fairly short, and the picked bananas can't be stored for very long and arrive at the American or European markets too ripe. &nbsp The result can be very long hours for the workers over a short period of time.

Isn't it interesting how I started this webpage simply to share how bananas get to us from the plantation, and evolved into research into the serious environmental and social disasters caused by the American and multi-national corporations (are they one-in-the-same?) satisfying our hunger for this tropical fruit. &nbsp An interesting article by Carrie McCracken on the history of banana plantations in Central America can be found on the internet. &nbsp What is the solution to the problems created buy our demand for cheap bananas, and the transnational corporations' practices? I don't have all the answers. &nbsp However, I buy organic bananas at Trader Joe's (by Dole from Ecuador), which cost $0.29/pound (lb) as compared to $0.19/lb those bananas that are sprayed and fertilized (the cheap nonorganic ones).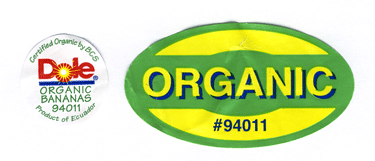 actual size

I think this is a small additional price to pay for better, healthier fruit, and not contributing to the adverse affects on the environment and people of the producing countries around the world. Dole's website has a 2.5-minute video (just go to the bottom of their page to select the video) that talks about all that Dole is doing to meet consumer demands, like mine, to provide organic fruit. &nbsp Check it out. &nbsp If each one of you who eats bananas did the same, the market forces would "force" the plantations to change their greedy and distructive ways; well, maybe just the pesticide/fertilizer aspects of their practices. &nbsp Dole says a consumer pole they conducted in the Washington D.C. area found that 66% of shoppers wanted organic fruits and vegetables, which is the reason why companies like Dole are slowly changing some of their practices. &nbsp Make them change even more.

CounterData.com



credit card rates Counter
All photos copyrighted by David L. Magney 2005.

Links to other Costa Rica photo pages
San Jose Area Photos
Poas Volcano National Park Area Photos
Braulio Carrillo National Park Area Photos
Tortuguero National Park Area Photos 1
Tortuguero National Park Area Photos 2
Grecia Metal Church and Sarchi Photos
Arenal Volcano Area Photos
Jaco Area Photos
Cloud Forest Photos
Manuel Antonio National Park Photos
Rio Frio-Los Chiles Area Photos
Costa Rican Bird Photos
Costa Rican Butterfly Photos
Costa Rica Home
Photos of a Del Monte Banana Plantation
The bananas we eat in America and throughout the world come from plantations such as this one in Costa Rica. &nbsp Thousands of hectares (32,000 ha) are planted in bananas in the lowland areas of Costa Rica, most owned and operated by American transnational companies such as Del Monte, Dole, and Chiquita. &nbsp Here you see a grove of bananas, with the inflorescences (the stalk on which the flowers and fruit grow) covered in blue plastic, which protects the developing bananas from damage by predators (birds, reptiles, mammals, and insects).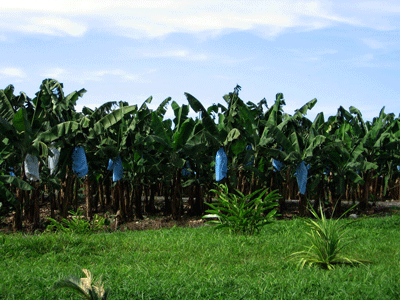 The bananas are harvested by field hands by cutting the entire, stalk of bananas while still green (3/4 mature). &nbsp The field hands then carry them individually to the edge of the grove and hook them to a cable-like conveyor system. &nbsp The hook attached to the stalk of bananas has a pulley type wheel that rides on top of the cable, which is quite rigid, and suspended from steel rod arches that are evenly spaced. &nbsp These suspended cable/rail lines run all the way to the packing houses. &nbsp But this system is operated manually, with no engines, by human "mules" (not intended to be a derrogatory term). &nbsp Each mule tows a train of banana stalks of about a dozen in number at a time. &nbsp While the terrain is relatively flat in this area of Costa Rica, it still takes a lot of human energy to pull these trains to the packing house. &nbsp This method of transport evoked quite a bit of discussion by the members of our tour. &nbsp Our tour director explained that most of the field workers were immigrants, and most of them come from Nicaragua. &nbsp I mentioned that this job as a mule really would keep the guys in great physical shape. &nbsp One of the mules we watched actually ran along with the tour bus, demonstrating his strength and machismo. &nbsp Others felt that such labor was a form of slave labor, and wondered why the companies didn't invest in motorized systems to transfer the bananas from the groves to the packing houses. &nbsp We had an interesting and stimulating debate, and it was enlightening to hear the different perspectives on the issue. &nbsp We had no idea how much these workers are paid, nor did anyone interview them to get their perspectives. &nbsp Questions about how much these workers get paid for such hard labor raised thoughts about fairness and equity. &nbsp One source on the internet stated that the typical Costa Rican farm laborer earned up to $3,000 a year, with another stating that banana plantation workers in Costa Rica make about $10/day. &nbsp For comparison, I found out that Nicaraguan workers are paid only $1/day in Nicaragua, and Ecuadorans are paid $4/day in Ecuador, so it is no wonder the Nicaraguans come to Costa Rica for the high-paying jobs. &nbsp And of course, while the work may be good exercise, it certainly could be very dangerous to exert yourself physically if the air you are breathing is filled with toxic substances. &nbsp However, certainly these large American companies would never do anything to cause harm their workers, you can trust publically traded (the ones you can buy stock in through your investment broker) busninesses to the do the right thing, right?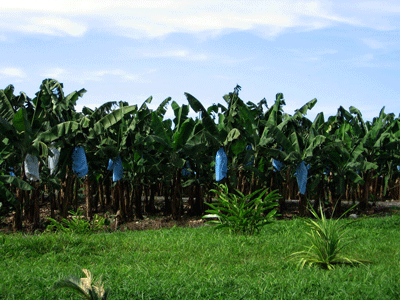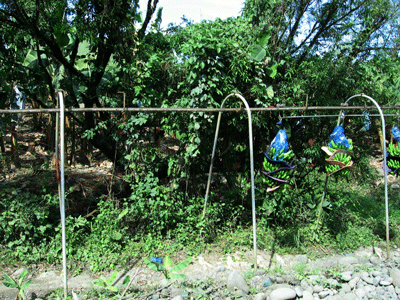 Here are two short video clips of one human mule pulling his banana train. &nbsp It will play as soon as it is loaded. &nbsp Right click with your mouse to access "Play" to run the video again. &nbsp I didn't get him when he was running; he probably got tired. &nbsp How much does he earn for pulling each train? &nbsp They are paid about $10 per day, and these workers can be forced to work overtime, or be fired if they refuse.



Here we are at the Del Monte banana packing plant, with two American immigrants from Texas (Lori and Lesley) wondering if they could get jobs (they were excited about seeing the human mule).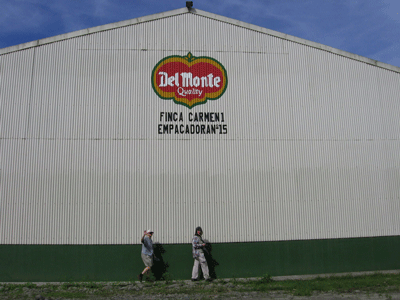 Below is a series of photos and video clips of workers sorting the bananas after they are delivered to the packing plants by the mules. &nbsp The workers at the first station cut the banana stalks into bunches. &nbsp The remaining stalks are put on trucks for recycling/processing into "banana" paper. &nbsp Each bunch of bananas is put into a tank of water (which may also contain a number of chemicals, and is probably why all the workers are wearing rubber gloves), where they float to a sorting crew at the second station.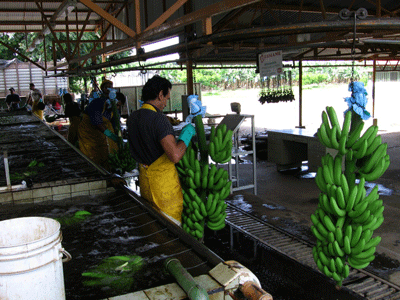 The second-station crew sorts out all the less-than-perfect bananas and tosses them up onto a conveyor that takes them to a open stake truck to be distributed to local markets, such as in San Jose a few hours' drive away. &nbsp The best bunches of bananas are then placed into another tank of water (one source says that these tanks of water are actually full of toxic chemicals to clean the fruit and kill any invertebrates or whatever), where they float to the third station.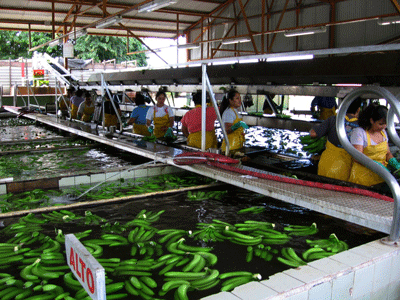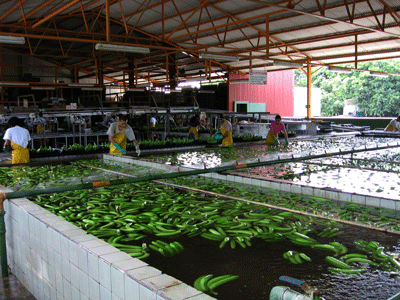 The third station is where the best bunches of bananas are packed onto trays to drip dry, and then onto a conveyor belt to the fourth station where they are packed in boxes for shipping. &nbsp Now if you look very carefully on this video, at the back of the packing house, above and to the right of the closest worker, you will see bananas being tossed onto that semi-truck trailer for transfer to the in-country markets such as in San Jose, but not for export. &nbsp To the left, the clean bananas are conveyored to a fifth station where they are packed into shipping boxes (the ones we see behind the grocery stores where we buy our produce) and loaded onto trucks with ship cargo containers for transfer to the docks in Limon, and on to American and European ports.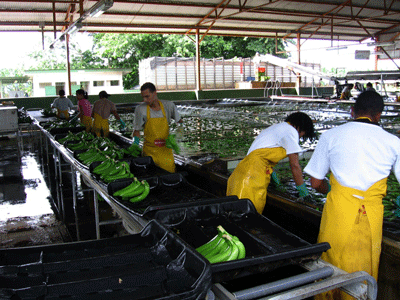 Now you know more about bananas then you probably ever wanted to know. &nbsp Such is life on the internet.


Costa Rica Home
Photography Home Page
Photography Site Map
DMEC Home