Arenal Volcano and Region Landscape Scenes and Plants
18-19 December 2005
This page last updated 13 January 2006

The Arenal Volcano is located on the Cordillera de Tilaran in the northwest center of Costa Rica and is a popular tourist area. Arenal Volcano (Volcan Arenal) is an active volcano, but is relatively quiet, and the center of Parque National Arenal (Arenal National Park). The volcano has a typical cone shape, with steep slopes, and attains an elevation of 1,633 to 1,657 meters (5,373 to 5,435 feet) - depending the information source (maybe it has grown higher). Since it is active, people are forbidden from climbing it for safety. It is vegetated by tropical cloud forest vegetation, where recent lava has not burned or covered it over. A red glow is sometimes visible near the summit, when not covered in cload. Clear days are uncommon on the summit. See the map of the "Costa Rica Home" page for the park.

The town of La Fortuna is the largest town at the foot of the volcano, located on the east-northeast flank, all of which are within the province of Alajuela (Provincia de Alajuela). Farming is abundant in the relatively flat lands to the northeast of Arenal Volcano (San Carlos Valley), and is the most important economic activity in this part of Costa Rica, followed by tourism. Casava (Manioc) and Pineapple are two common crops in this region, as well as Papaya. Basic information about the volcano and photographs of the erupting volcano can be found at this Arenal Volcano website or this website, and a good summary of attractions in the area are found at this other site.

Our Caravan tour took us to Fortuna, and to a developed hot springs (Baldi Therminale) at the north foot of the volcano. We also used Fortuna as our "basecamp" for an excursion to Rio Frios on the border with Nicaragua (featured on another web page on this site). We stayed in individual family cabins at Los Cabanitas, located just east of town. This webpage includes one short video clip passing a field of Casava as seen from our bus.

In April of 2001 we traveled to this area and hiked to the La Fortuna waterfall, bathed in the Tabacon Hot Springs, and stayed in a resort on the southwest flank of the volcano with a view of Lake Arenal. Scenes from this visit are also included.

CounterData.com



health insurance Counter
All photos copyrighted by David L. Magney 2005

Links to other Costa Rica photo pages
San Jose Area Photos
Poas Volcano National Park Area Photos
Braulio Carrillo National Park Area Photos
Tortuguero National Park Area Photos
Tortuguero National Park Area Photos 2
Grecia Metal Church and Sarchi Photos
Jaco Area Photos
Cloud Forest Photos
Manuel Antonio National Park Photos
Rio Frio-Los Chiles Area Photos
Costa Rican Bird Photos
Costa Rican Butterfly Photos
Banana Plantation Photos
Costa Rica Home
Photos of Scenes of the Arenal Volcano and surrounding area
A very rare clear view of Arenal Volcano, facing west from just east of the town of La Fortuna.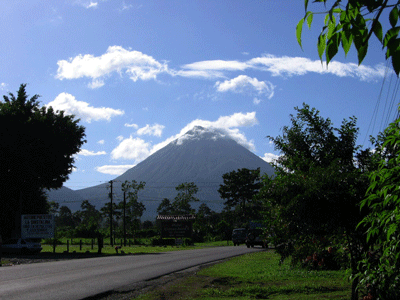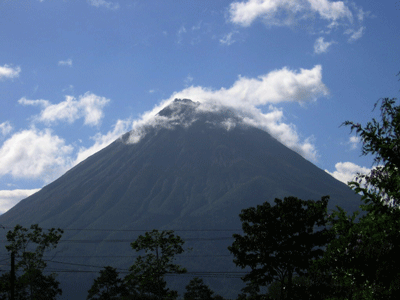 Here is the volcano from the same position, as usually (not) visible due to cloud cover.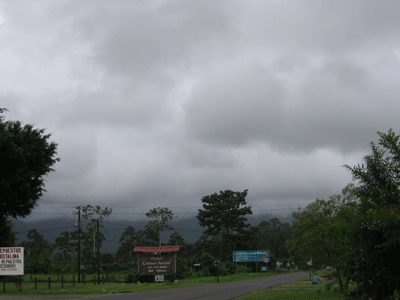 Bathing beauties (Nancy and Heidy) I observed in one of the hot spring pools at the Baldi Therminale Resort.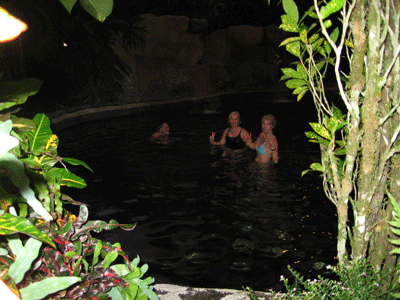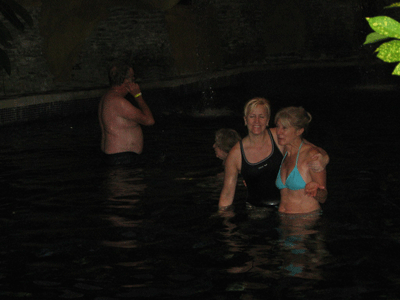 These are artificial falls and an island bar surrounded by a pool at the Baldi Therminale Resort.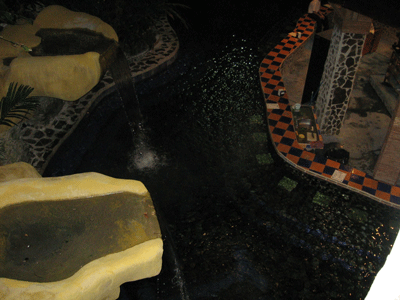 Here is a video clip of a Casava field north of Fortuna, a common crop in this area of Costa Rica. It will play as soon as it is loaded. Right click your mouse to access "Play" to run the video again. You get me saying, "Casava", what a good narrator.



Outside and inside view of cabana we stayed in at Fortuna at Los Cabanitas. I also received a short massage from one of the resort staff, compliments of Dana and Dean (fellow tourists), who "won" the massage in a promotional drawing to our tour. Thank you Dana and Dean, it was very nice.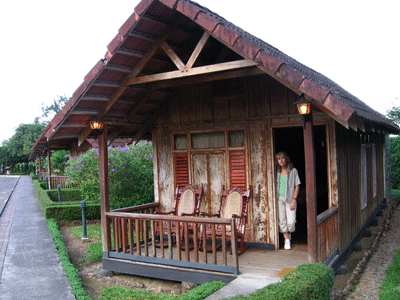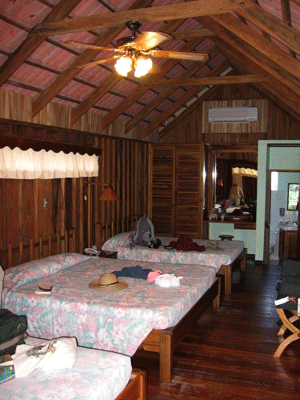 A strange towel animal found on our bed after returning from an excursion. It was very hard for us to rip this animal apart to dry ourselves.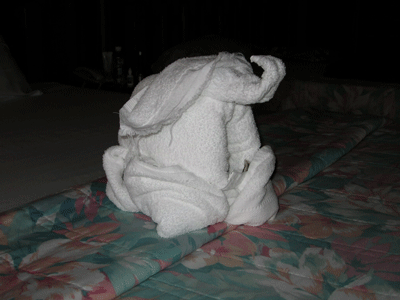 This is a scene of a pineapple crop being tended in the flat agricultural San Carlos Valley region northeast of La Fortuna.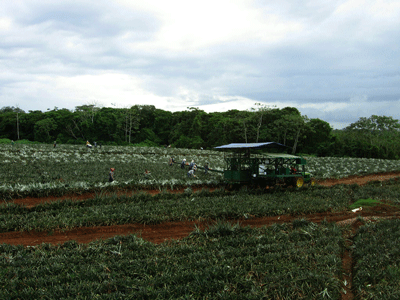 Green Iguanas (Iguana iguana) courting on top of tree branches. The male turns orange to attract females. Some of the males have better attractive qualities, and attract several females at a time. Notice the smile on this guy's face? The Green Iguana is a common reptile in Costa Rica, and is found throughout the country.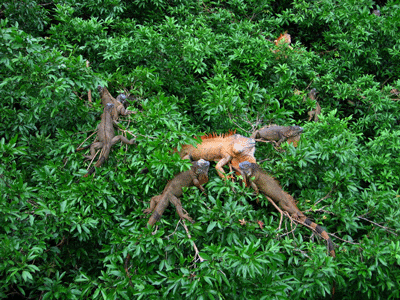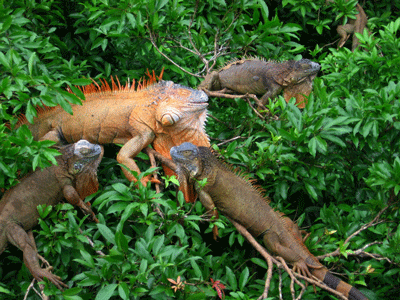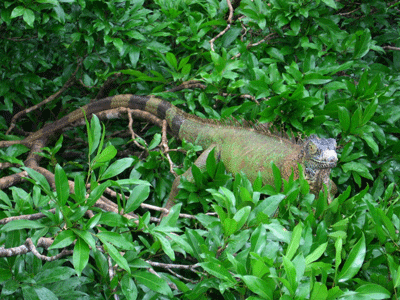 A Begonia and a Heliconia found growing along the trail to the La Fortuna waterfall, in April 2001.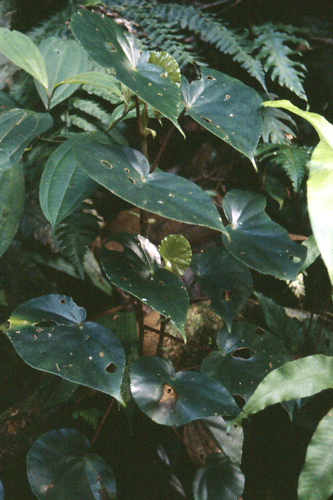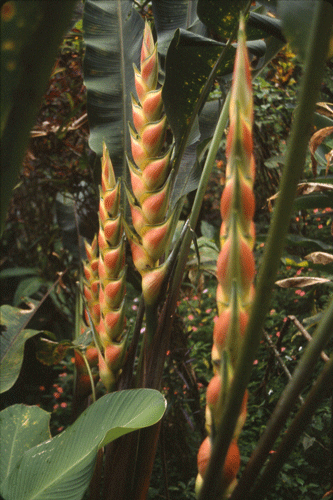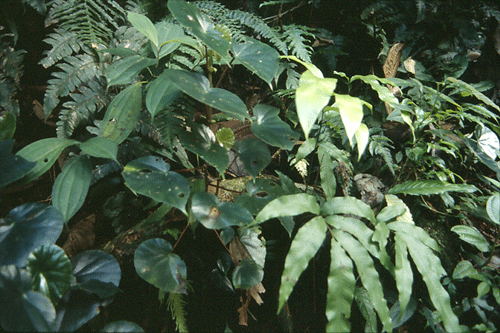 The La Fortuna waterfall, and river below it, as seen in April 2001.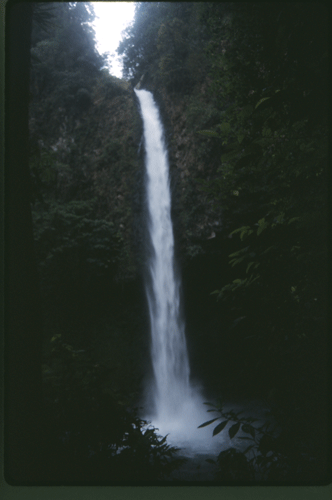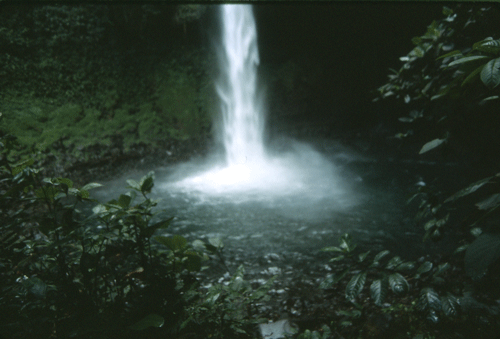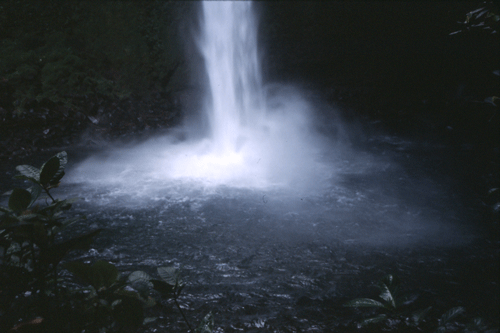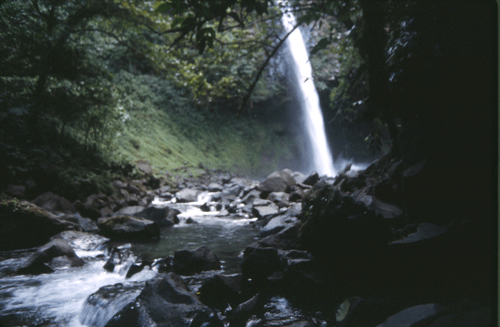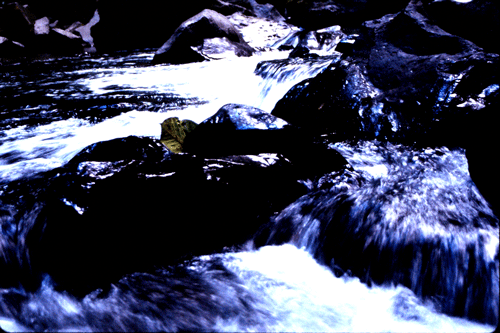 Costa Rica Home
Photography Home Page
Photography Site Map
DMEC Home