Horn Canyon Scenes and Wildflowers
26 May 1974, 11 April 1979, 28 March 2004, & 30 May 2005
Horn Canyon drains the eastern south flank of Nordhoff Ridge, below Chief Peak, east of Ojai and the Ojai Valley. &nbsp March through June are the best times for seeing native plants blooming in this area. &nbsp The lower part of the canyon generally follows Horn Canyon Creek, and the upper part leaves the canyon bottom and climbs steeply to The Pines Campground, and then on further up to Nordhoff Ridge Road and Chief Peak.

The rains of 2004-2005 were the second highest ever recorded for the area. &nbsp The abundant moisture brought forth a tremendous density of blooms from nearly every native plant species. &nbsp The Farewell-to-Spring (Clarkia unguiculata) was especially dense and thick, while always present, had more plants then normal. &nbsp The flower heads of Golden Yarrow (Eriophyllum confertiflorum) are twice as large as they are normally.

All photos copyrighted by David L. Magney 1974-2005

This page was created on 8 January 2008.
This page was last updated on 29 January 2008.

Plant Photos A-D
Plant Photos E-H
Plant Photos I-Z
Ojai Area Home
Horn Canyon Plant Checklist [PDF]


Landscape and Trail Scenes of Horn Canyon
Topographic map of Horn Canyon, to The Pines, starting behind Thacher School.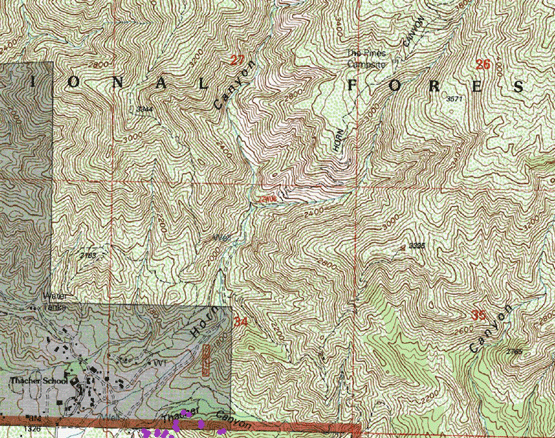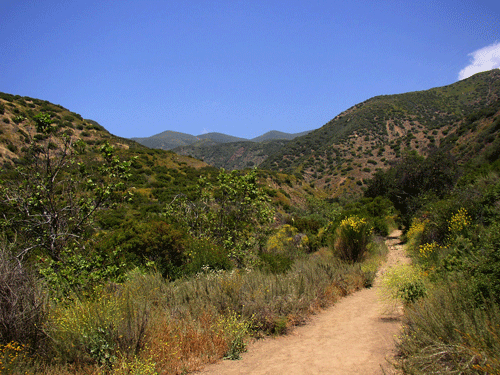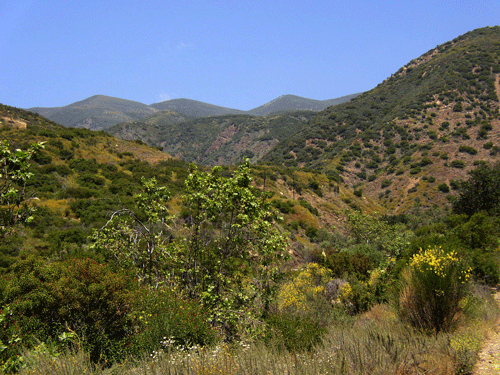 The lower section of the trail is wide and an easy walk. &nbsp It used to be a road, periodically regraded by Thacher School to access their water well about a mile up from the school. &nbsp Mixed Chaparral and Coastal Sage Scrub dominate the slopes and trail, with Sycamore-Arroyo Willow Riparian Woodland dominating the banks of Horn Canyon Creek. &nbsp The larger yellow-flowered shrubs seen above is Spanish Broom (Spartium junceum), an invasive exotic species.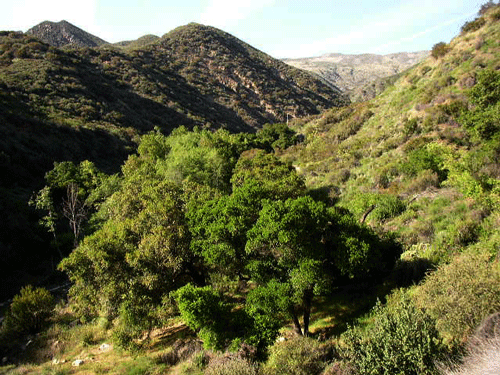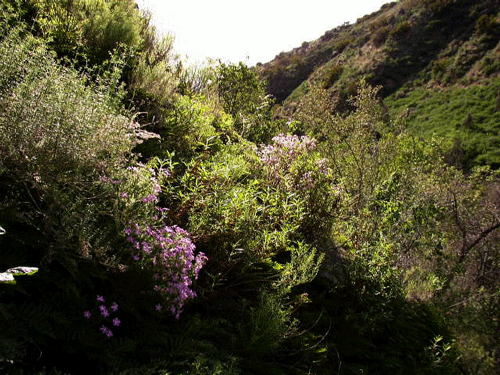 Coast Live Oak Woodland and riparian vegetation is seen in the photo on the left while Coastal Sage Scrub-Chaparral dominate the slope on the photo on the right, with Prickly Phlox (Leptodactyon californicum) in full bloom (lavender-rose).
.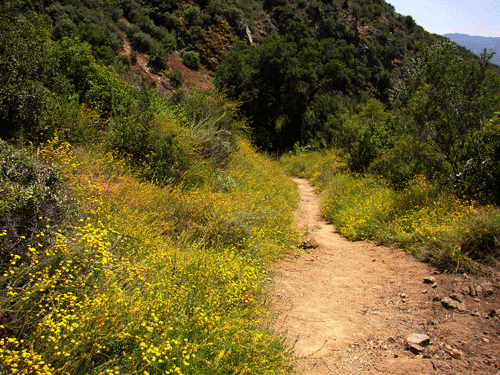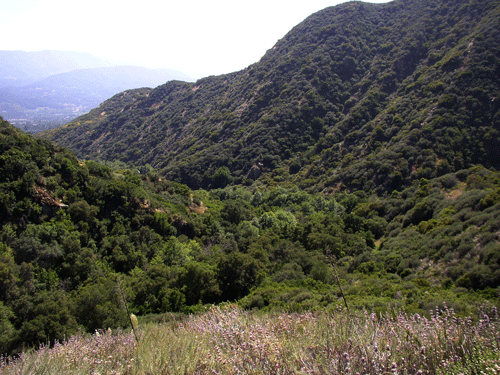 Here the trail is nearly overgrown with Deerweed (Lotus scoparius) in full bloom. &nbsp Dense Ceanothus Chaparral covers the mountain slopes and Sycamore-Arroyo Willow Riparian Woodland covering the creek, flanked by patches of Coast Live Oak Woodland.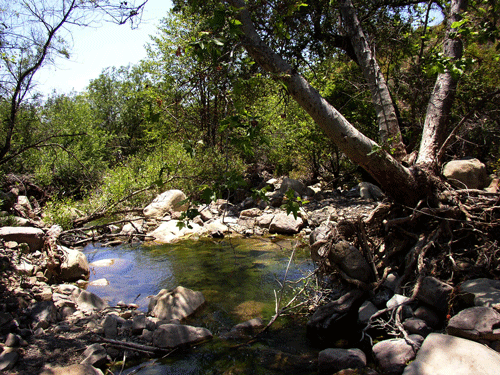 Here is a quite perennial pool in Horn Canyon Creek shaded by California Sycamore (Platanus racemosa).

Ojai Area Home
Photography Home Page
Photography Site Map
DMEC Home