Frazier Mountain, Ventura County, California
Created 11 February 2008
This page updated 23 October 2010
All photos copyrighted by David L. Magney 2000-2008 View My Stats


---
Frazier Mountain, a 8,026-foot- (2,446 m-) high mountain located in the northeastern corner of Ventura County, is a prominant peak at the top of the Grapevine along Interstate 5. &nbsp It is entirely within the Los Padres National Forest. &nbsp Frazier Mountain is a relatively high range, located on the south side of the San Andreas Fault, on the Pacific (tectonic) Plate. &nbsp Frazier Mountain is bounded on the north by the San Andreas Fault (Zone) and the San Emigdio Range beyond (on the American Plate), Hungry Valley on the east, Piru Creek on the south, Lockwood Valley on the southwest, and Chuchupate Valley on the northwest. &nbsp Piru Creek drains the southern half of the mountain, draining to the Santa Clara River and Pacific Ocean. &nbsp Cuddy Creek drains the northern half of the mountain, which empties into Quail Lake on the Tejon Ranch, with no outlet to the ocean. &nbsp Native plants and scenes of Frazier Mountain are featured on this web page.

A Forest Service road (Frazier Mountain Road - 8N04) provides seasonal access to the top of the mountain. &nbsp This road is accessed from Lockwood Valley Road about a mile from Lake of the Woods. &nbsp It goes to the fire lookout tower and radio towers at the summit at 8,026 feet (2,446 meters) elevation, with spurs to the northeast (8N24) and southwest (8N04B), both connecting with hiking/biking trails to the east and south, respectively. &nbsp Several trails radiate out from the summit, used primarily by dirt bikes. &nbsp The northernmost portion of the mountain is located in Kern County.

Wildfire is part of the natural dynamics of natural areas such as Frazier Mountain. &nbsp The most recent fire to burn a significant portion of the mountain was the Day Fire of 2006. &nbsp The Day Fire of 2006 (named for its start date on Labor Day) burned approximately 162,700 acres (6,5843 hectares), starting near Pyramid Lake in Los Angeles County to the southeast. &nbsp The fire spread quickly and moved westward along the Piru Creek watershed primarily on the south slope of Frazier Mountain; however, it did not burn much of the mountain. &nbsp There are no Ventura County Fire Department records of any fires on Frazier Mountain between 1950 and 2006. &nbsp Natural fires on Frazier Mountain would be from lightening strikes. &nbsp None have occurred on Frazier Moutain in over 60 years, at least not resulting in a wildfire.

Frazier Mountain was created primarily during the orogeny of portions of the western Transverse Ranges, has been suggested as middle Pliocene (Axelrod 1976, 1980) and major deformation as middle Pleistocene (Gross 1958). &nbsp Geologically, Frazier Mountain is composed of Precambrian igneous and metamorphic rock formations. &nbsp The metamorphic rock is primarily Frazier Mountain augen gneiss, and is some of the oldest rock in California (Precambrian, at around 1.3 billion years old). &nbsp Pockets of sedimentary rock occurs along the flanks of the mountain, and includes sandstone and siltstone members of the Pliocene Quatal Formation, and Pleistocene and Holocene landslides and conglomerates.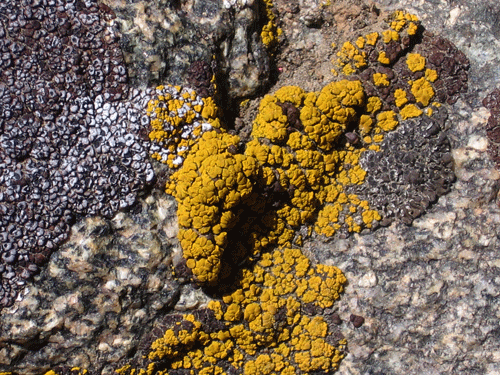 The basement rock of Frazier Mountain is basically riding up on younger material, pushed up along the North and South Frazier Mountain Thrust Faults, located on the south and west sides of the mountain. &nbsp The San Andreas Fault occurring to the north and northeast, and the Big Pine Fault forms the west-northwest boundary.

Frazier Mountain is located at the axis of the Transverse Ranges (of southern California), the Sierra Nevada, the Mojave Desert, and the Sierra Madre Range and Inner South Coast Ranges of coastal central California.

One primitative car camp occurs on Frazier Mountain (Chuchupate Campground), along the road from Lockwood Valley Road at the Mount Pinos District Chuchupate Ranger Station. &nbsp The Forest Service used to maintain a fire lookout on the summit (which has been vandalized recently), with commercial radio and cell phone towers located nearby.

There are several old mines on Frazier Mountain, including: Aura, Maule, Frazier, and Harris mines. &nbsp The Ridgelite mine (now owned by TXI) at the western toe of the mountain is still quite active, with its operations visible from Lockwood Valley Road, mining Lockwood Valley Clay.

Frazier Mountain is located in the northern part of the Western Transverse Ranges, dominated by mixed conifer forests. &nbsp The lower elevations of the mountain contain Pinyon-Juniper Woodland (Pinus monophylla-Juniperus californica Alliance) containing a significant amount of scrub oaks, including Quercus john-tuckeri (Tucker Scrub Oak). &nbsp Higher elevations find Yellow Pine Forest (Pinus jeffreyi-Abies concolor-Quercus kelloggii Alliance), which generally has an open or scrubby understory. &nbsp Montane Chaparral vegetation alliances occur in dryier and open areas on the slopes of the mountain.

The Frazier Mountain flora (a checklist of plants dated 23 October 2010) of the mountain consists of approximately 364 vascular plant taxa (including subspecies and varieties), complemented by lichens and bryophytes (mosses and liverworts). &nbsp The flora is primarily holoarctic in floristic makeup, with a nearly direct topographic link to the Sierra Nevada through the Tehachapi Mountains. &nbsp The flora is also influenced by the Madro-tertiary flora from the south. &nbsp Of the 364 vascular plants on the checklist, 250 (69%) are supported by voucher specimens that have been deposited in one or more California public herbaria. &nbsp 89 taxa (24%) have been observed on Frazier Mountain but are not supported by vouchers. &nbsp Another 25 (7%) are expected but not supported by voucher specimens or direct observations by the author. &nbsp No surveys of the lichen or bryophyte floras of the mountain have been conducted, that I am aware of anyway.

A large percentage of the Frazier Mountain vascular plant flora consists of plants that are rare in Ventura County. &nbsp Of the 364 taxa documented as present on the mountain, including the 25 that are expected but not observed or proven yet, 147 taxa (40%) are rare, with 10 or fewer populations in Ventura County, or considered rare statewide or nationally or globally (Magney 2010), as published by the California Native Plant Society, Channel Islands Chapter. &nbsp This is a lower percentage than for the county as a whole; however, it is still an impressive number. &nbsp The relative uniqueness of the Frazier Mountain flora is a function of its geographic position in a floristically rich part of California, itself extremely rich floristically. &nbsp Frazier Mountain has a range of habitats ranging in elevation from below 4,000 feet to just over 8,000 feet above mean sea level. &nbsp While not quite subalpine like it neighbor to the west, Mount Pinos, it is almost as tall. &nbsp Frazier Mountain has been riding northward on the Pacific Plate, bringing with it florisitic elements from hundreds of miles south, yet has a physical connection to migrating plants from the Sierra Nevada via the Tehachapi Mountains. &nbsp Also of interest is the relatively small percentage of the flora that consists of non-native naturalized species, at 13 species, this represents only 3.6%, far below the average for the entire state or almost any area. &nbsp It may be that this is an artifact of underreporting and collecting of naturalized species by botanists; however, my surveys of several transects, primarily on the south slope of the mountain, were floristic in nature, recording all species observed.

The Frazier Mountain region of Ventura County is also a genetic hotspot for wildlife in southern California, based on a recently published study in the journal, Biological Conservation. &nbsp Vandergast et al. (2008) found that the Frazier Mountain area had a relatively high variance for genetic divergence based on a genetic study of 21 different species of wildlife, with representatives from invertebrates, amphibians, birds, mammals, and reptiles. &nbsp This is in part due to the fact that Frazier Mountain is located at the crux of the San Andreas, Garlock, and Big Pine Faults, and the Tehachi Mountains/Sierra Nevada, Inner North Coast Ranges/San Rafael Mountains, Mojave Desert, and the eastern Transverse and Peninsular Ranges. &nbsp This is a major factor explaining why this part of Ventura County is so biologically rich and diverse.


---
Forest Service Map of Frazier Mountain, Ventura County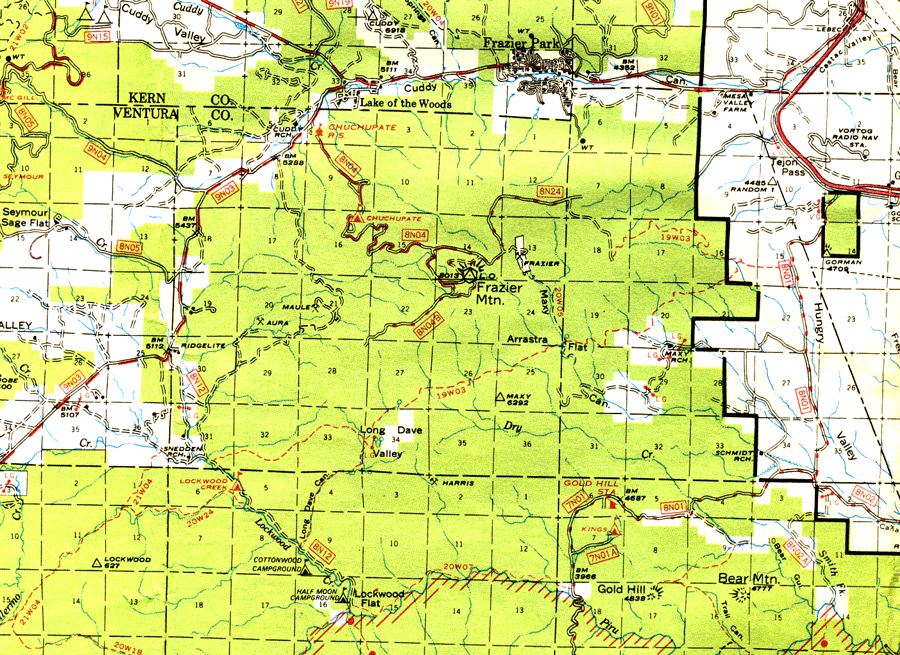 USGS Topographic Map of Frazier Mountain, Ventura County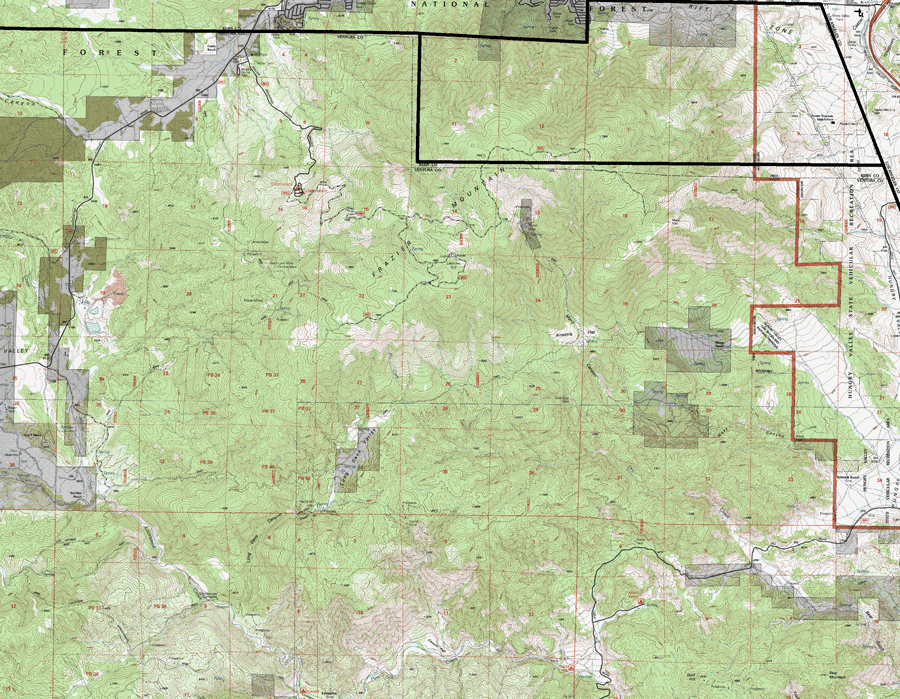 ---
Frazier Mountain Photographs
View of the Frazier Mountain as seen from east of Gormon, just south of the Tejon Pass in early February 2008.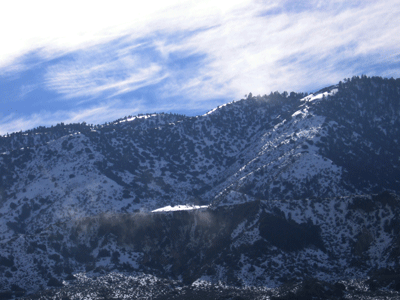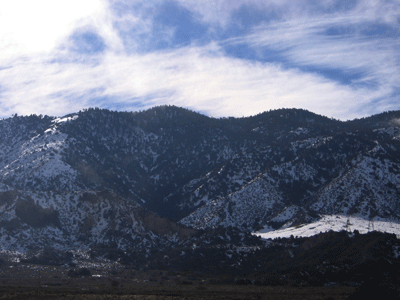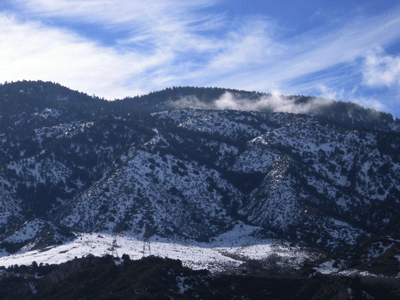 Here are two panorama views of Frazier Mountain as seen from the west end of Cuddy Valley from the north base of Mount Pinos and from Chuchupate Valley at the base of Frazier Mountain, both viewing the western flank in early March 2008. &nbsp The third photograph shows the northern part of Frazier Mountain as seen from Chuchupate Valley, near the Chuchupate Ranger Station. &nbsp The Forest Service keeps the road to the summit closed at the Chuchupate Ranger Station during the winter and early spring when snow is present on the mountain.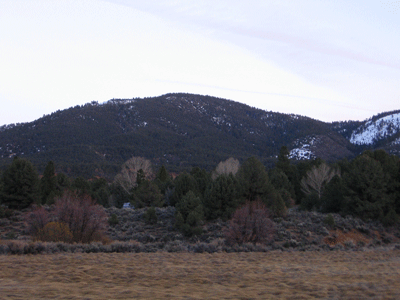 Below are two scenes on the western toe of the mountain featuring Pinyon-Juniper Woodland alliances, with Pinus monophylla and Quercus john-tuckeri as dominants, and with an occassional Hesperoyucca whipplei on the exposed south-facing slopes.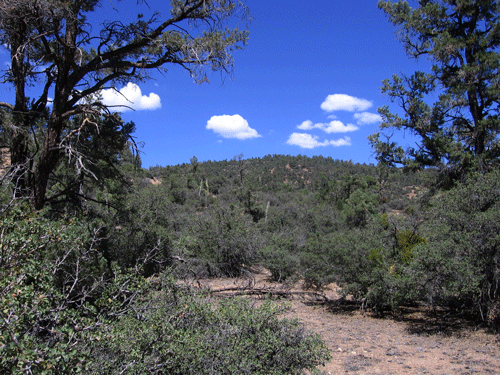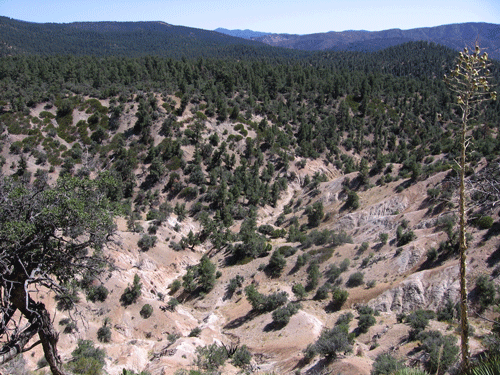 One of the interesting plant communities present on Frazier Mountain is what I call Cushion Buckwheat Scrub. &nbsp Dominated by Eriogonum kennedyi subspecies and Eriogonum wrightii ssp. subscaposum, this scrub forms a low, dense, mat-forming shrubland that represent a rare plant community, referred to here as Cushion Buckwheat Scrub, or Eriogonum kennedyi-wrightii Alliance. &nbsp Cushion Buckwheat Scrub occurs on gravelly sandy loam soils resembling the Pebble Plains of the San Bernardino Mountains in the Big Bear area. &nbsp The buckwheat plants that dominate this plant community are likely quite old, some possibly over 100 years old. &nbsp Cushion Buckwheat Scrub occurs in the northern portion of Ventura County scattered sparingly from the Cuyama Badlands, Mount Piņos-Sawmill Mountain, Lockwood Valley, Frazier Mountain, San Guillermo Mountain, and the upper Piru Creek drainage. &nbsp It occurs primarily in forest and woodland openings on Frazier Mountain, most commonly on the south toe of the mountain.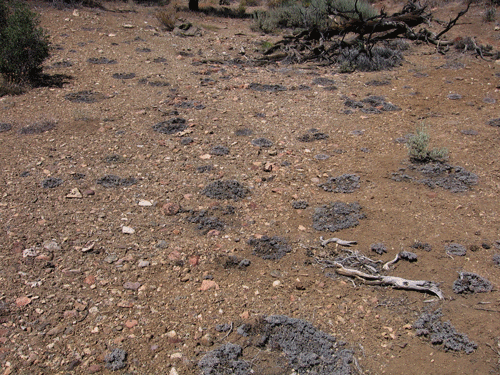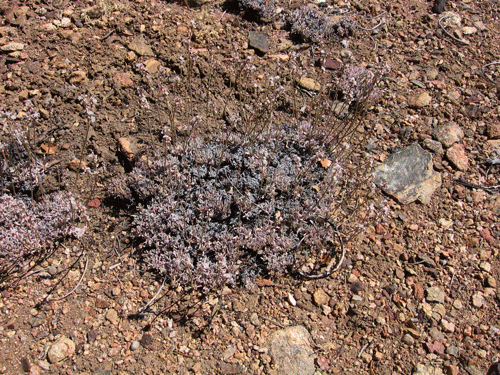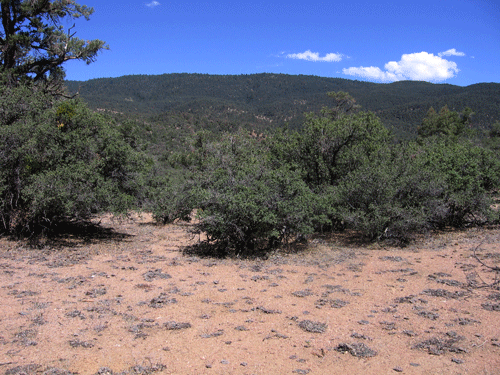 ---

Be sure to visit Frazier Mountain and see how many plants you can find. &nbsp At least 78 botanists have collected plants from Frazier Mountain starting in 1891 and deposited their specimens in one of California's public herbaria. &nbsp They are listed (chronologically) below, with the years they collected from Frazier Mountain:
Frederick V. Coville and Frederick Funston in 1891,
William R. Dudley and Frank H. Lamb in 1896,
R.S. Baldwin in 1905,
Henry M. Hall in 1905,
Francis Fultz in 1921,
Robert Daniel Harwood in 1925,
Ralph Hoffmann in 1928,
John R. Hodgson in 1928,
C.L. Hitchcock in 1928 and 1929,
E. Crow in 1929,
L. Clare in 1930,
G.R. Johnstone in 1930,
F.R. Fosberg in 1931,
Carl Epling and Louis C. Wheeler in 1933 and 1934, sometimes with Jens Clausen,
A.E. Weislander in 1934,
J.E. Sowder in 1934,
Marcus E. Jones in 1926, 1934, and 1937,
Carl B. Wolf in 1935,
G.T. Nordstrom in 1935,
A. Simontacchi in 1935,
W.A. Peterson in 1935,
J.C. Roos in 1937,
Lyman Benson in 1937,
W.B. Holt in 1937,
Mr. Henry J. and Mrs. Ramsey in 1938,
Harlan F. & M. Lewis in 1941 and 1947,
John M. Tucker in 1941,
John S. Garth in 1946,
Marion Ownbey in 1946,
C.H. Muller in 1947,
B.C. Templeton and Glenn Chadwick in 1947,
Alva & Vern Grant in 1951,
Roxana S. Ferris in 1954,
Richard M. Straw in 1954,
Ernest Twisselmann in 1955, 1963, and 1964,
PhilipVincent Wells in 1956,
C. Brant in 1958,
J.R. Haller in 1959,
Paul D. Hurd, Jr. in 1959,
K.C. Zakar in 1960 and 1969,
Joseph M. Keefe in 1961 and 1965,
J.D. Olmsted in 1962,
Brian C. Miller in 1962, 1963, and 1968,
Dennis E. Breedlove in 1963,
Janet Santarosa in 1965,
Dieter H. Wilken in 1969,
John Lance Strother in 1970,
T.C. Fuller and D.M. Poore in 1974,
Christopher Davidson in 1975,
John F. Emmel in 1977,
William C. Overton, Jr., in 1977
Bridget Recht in 1980,
David L. Magney in 1982, 1994, 2001, 2008, and 2010
Richard A. Burgess in 1982,
Steve Junak in 1982,
Fred M. Roberts, Jr. in 1982,
Michael Theroux in 1982,
Adrian J. Mayor in 1982,
G.K. Helmkamp in 1982,
Andrew C. Sanders and F.C. Vasek in 1984,
Barry A. Prigge in 1986,
David M. Thompson in 1986,
Dean W. Taylor in 1986,
Roy E. Buck and Rexford Palmer in 1989,
J.S. Miller in 1993,
Clifton F. Smith in 1994 and 1995, and
Pam De Vries in 2008 .
Who is not on this list is noteable too. &nbsp While Philip A. Munz, Clare B. Hardham, and Willis F. Jepson all collected quite a bit in Ventura County, they did not collect from Frazier Mountain. &nbsp Is this because it did not appear quite as interesting as Mount Pinos immediately to the west? &nbsp Did Forest Service Botanists/Ecologists Mark Borchert (1970s-1990s), Karen Danielsen (1992-1997), Mike Foster (1998-2005), or Lloyd Simpson (2006-) collect from the mountain? &nbsp If so, their specimens have not yet turned up in any of the California public herbaria (at least not their databases) as of October 2010.


---
References Cited
Axelrod, D. &nbsp 1976. &nbsp History of the Coniferous Forest, California and Nevada. &nbsp University of California Publications in Botany 70.
Axelrod, D. &nbsp 1980. &nbsp Contributions to the Neogene Paleobotany of Central California. &nbsp University of California Publications in Geological Sciences 121.
Gross, D.J. &nbsp 1958. &nbsp Geology of Ortega Area, Ventura Co. &nbsp University of California Publications in Geological Sciences 4.
Magney, D.L. &nbsp 2007. &nbsp Checklist of Ventura County Rare Plants. &nbsp 3 August 2007, Eleventh edition. &nbsp California Native Plant Society, Channel Islands Chapter, Ojai, California.
Vandergast, Amy G., Andrew J. Bohonak, Stacie A. Hathaway, Joshua Boys, and Robert N. Fisher. &nbsp 2008. &nbsp Are Hotspots of Evolutionary Potential Adequately Protected in Southern California? &nbsp Biological Conservation 141(6):1648-1664, June 2008.
---
Ventura County Flora Home Page
Magney's Photography/Biogeography Home Page
David Magney Environmental Consulting Home Page